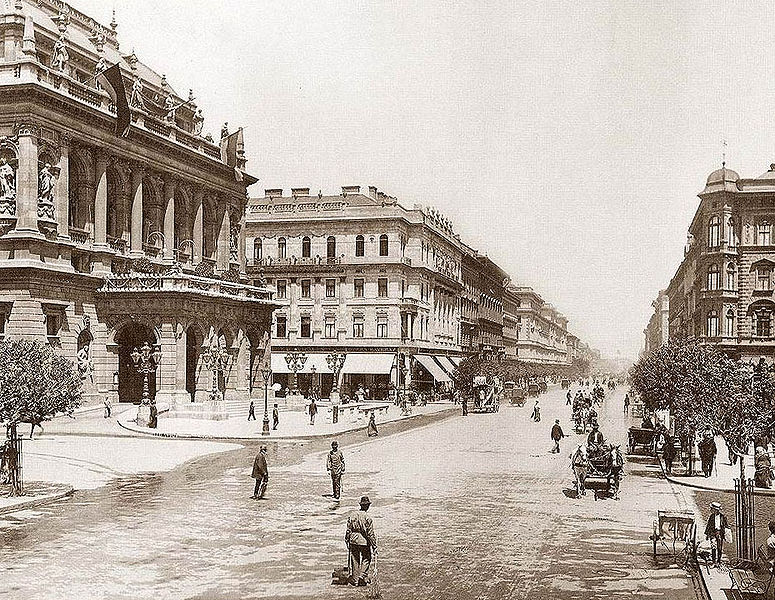 Andrássy út
Andrássy Avenue (Hungarian: Andrássy út) is a boulevard in Budapest, Hungary, dating back to 1872. It links Erzsébet Square with the Városliget. Lined with spectacular Neo-renaissance mansions and townhouses featuring fine facades and interiors, it was recognised as a World Heritage Site in 2002. It is also one of Budapest's main shopping streets, with fine cafes, restaurants, theatres, and luxury boutiques.
History
It was decreed to be built in 1870, to discharge the parallel Király utca from heavy traffic and to connect the inner city parts with the City Park. Its construction began in 1872 and the avenue was inaugurated on August 20 (a national holiday), 1876. Its realization was a blend of the plans proposed by the top 3 competitors Lajos Lechner, Frigyes Feszl and Klein & Fraser. Its palaces were built by the most distinguished architects (led by Miklós Ybl) of the time, financed by Hungarian and other banking houses. These were mostly finished by 1884 and mostly aristocrats, bankers, landowners and historical families moved in. It was named in 1885 after the main supporter of the plan, Prime Minister Gyula Andrássy.
The construction of the Budapest Metro, the first underground railway in Continental Europe, was proposed in 1870, since the capital had always been opposed to surface transport on this road. Construction began in 1894 and was finished in 1896, so this new metro line could facilitate the transport to Városliget, the main venue of the millennium celebrations of Hungary.
Cross-section of the first metro line under Andrássy út, 1890s
The boulevard was renamed three times in the 1950s; a testament to the rapid political changes of the period. It became Sztálin út ("Stalin Street") in 1950 during the Soviet occupation. During the 1956 uprising it was renamed to Magyar Ifjúság útja ("Avenue of Hungarian Youth"). The following year the governing communists changed the name to Népköztársaság út ("People's Republic Street"). The former name of Andrássy was restored in 1990, after the end of the communist era.
In September 2011, Secretary of State for Culture Géza Szőcs officially announced plans to build a new structure along Andrássy út close to City Park and near the existing Budapest Museum of Fine Arts and Budapest Art Hall (Műcsarnok). This building would house the collections of the current Hungarian National Gallery. This expanded plan, which would utilize the entire boulevard, is referred to as the Budapest Museum Quarter or Andrássy Quarter.
[wp_gmaps address="Budapest, Andrássy út" zoom="15" marker="1"]
You should add a rate for this post: