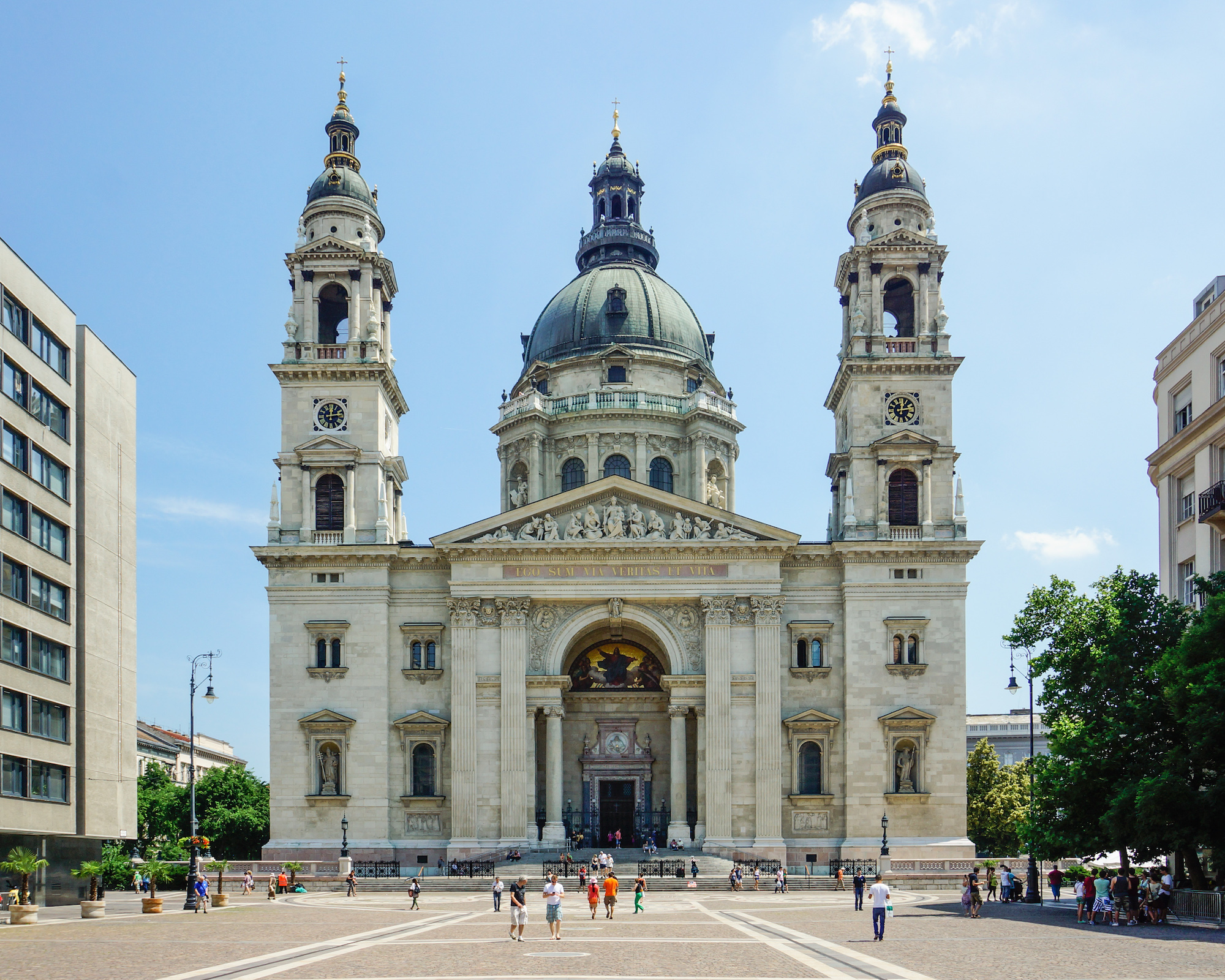 Szent István-bazilika
St. Stephen's Basilica (Hungarian: Szent István-bazilika) is a Roman Catholic basilica in Budapest, Hungary. It is named in honour of Stephen, the first King of Hungary (c 975–1038), whose right hand is housed in the reliquary. It was the sixth largest church building in Hungary before 1920. Today, it is the third largest church building in present-day Hungary.
Architecture
The church is named after Saint Stephen I of Hungary, the first King of Hungary (c. 975–1038), whose incorruptible right hand is housed in the reliquary.
This is the most important church building in Hungary, one of the most significant tourist attractions and the third highest building in Hungary.
Equal with the Hungarian Parliament Building, it is one of the two tallest buildings in Budapest at 96 metres (315 ft) – this equation symbolises that worldly and spiritual thinking have the same importance. According to current regulations there cannot be taller building in Budapest than 96 metres (315 ft).[1] It has a width of 55 metres (180 ft), and length of 87.4 metres (287 ft). It was completed in 1905 after 54 years of construction, according to the plans of Miklós Ybl, and was completed by József Kauser. Much of this delay can be attributed to the collapse of the dome in 1868 which required complete demolition of the completed works and rebuilding from the ground up.
The architectural style is Neo-Classical; it has a Greek cross ground plan. The façade is anchored by two large bell towers. In the southern tower is Hungary's biggest bell, weighing over 9 tonnes (8.9 long tons; 9.9 short tons). Its predecessor had a weight of almost 8 tonnes (7.9 long tons; 8.8 short tons), but it was used for military purposes during World War II. Visitors may access the dome by elevators or by climbing 364 stairs for a 360° view overlooking Budapest.
Concerts in the Basilica
The Saint Stephen Basilica has played an active role in the musical community since its consecration in 1905. The head organists of the church have always been very highly regarded musicians. In the past century the Basilica has been home to choral music, classical music as well as contemporary musical performances. The Basilica choir performs often in different parts of Europe as well as at home. In the summer months they perform every Sunday. During these months you can see performances from many distinguished Hungarian and foreign organ players alike.
One of the most famous Hungarian organists is Miklós Teleki Along with András Virágh, they are among some of the best organ players in Hungary. The concert includes arias which are sung by Kolos Kováts, one of the most famous concert and oratorio singers in Hungary. Among numerous prizes, in 1992 he received also the highest prize Hungarian artists can acquire: the Kossuth Prize. The flute is played by Eleonóra Krusic who is already known for her performances with different orchestras from Barcelona to Zürich, Granz and Viena.
These concerts take place Thursday evenings and last a little over an hour. There are other performances available, such as the 15 minute "mini concerts" on Fridays performed by András Virágh.
source: wikipedia The Fee Encyclopedia
You should add a rate for this post: