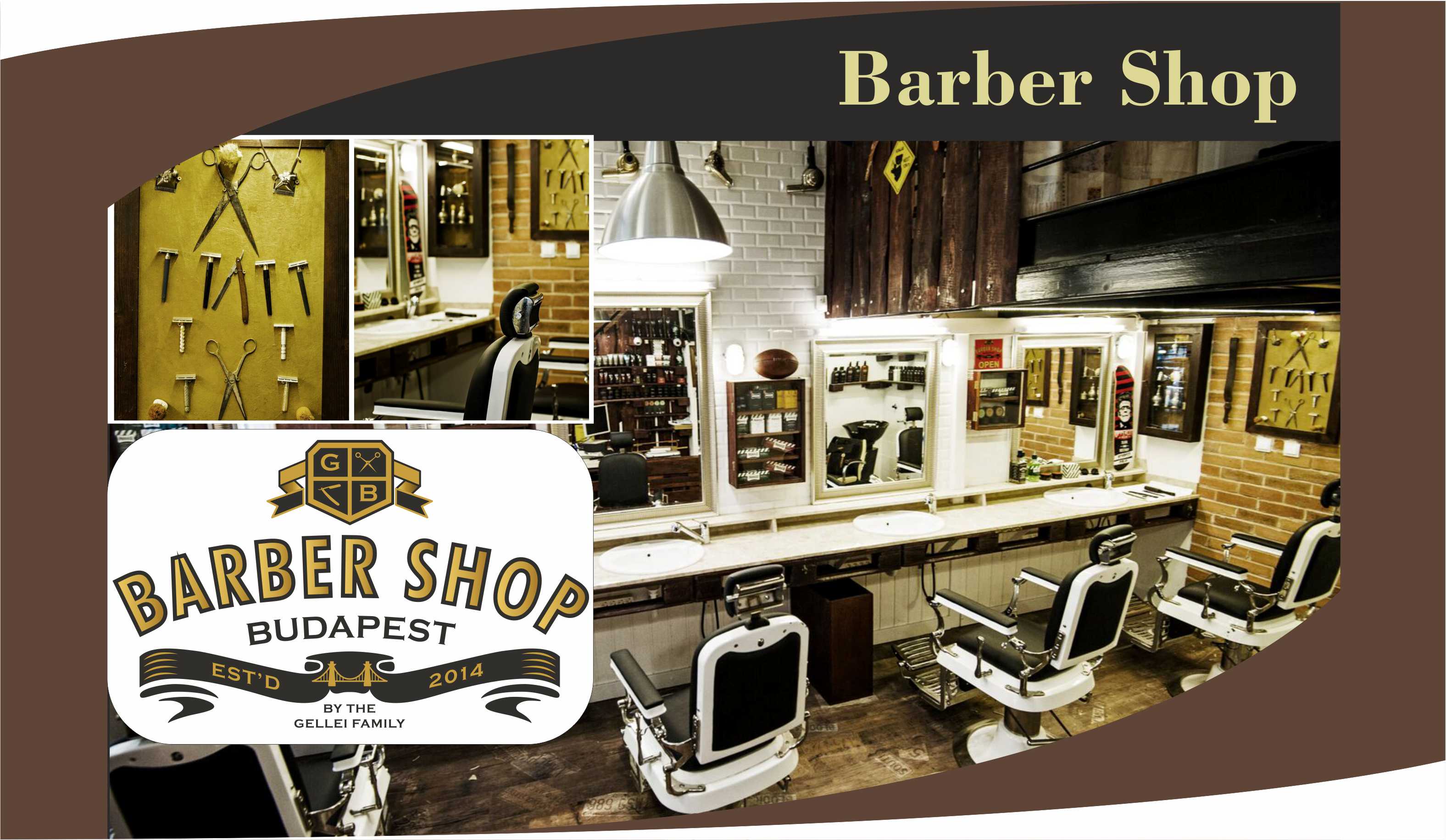 Barber Shop
The trend of bringing back classic barber shops took off in the US about three or four years ago, and finally reached Hungary as well, so now fans of classic haircuts have an official haunt here, at Barber Shop Budapest stores. The barbers are funny, and the relaxed atmosphere is quickly felt by guests, as well.
Each venues of Barber Shop Budapest settled down in the middle of the downtown's swarm You can find the guys at 4 places already: Dob street, Király Street, Astoria and Holló street marked by a genuine blue-white-and-red spinning barber pole.
The owners, the Gellei boys did not open the shop to soak their hands in lukewarm water all day and cut the hair of their guests in the same manner as any other hair salon in town. In this barbershop, we find a macho attitude, the easily recognizable Barber Shop signature haircut, and barbers working in uniform denim aprons.
The store's founders are the descendants of the Gellei family: their grandfather had a barber shop in Kispest before moving to Váci Street, while their father had one in Bartók Béla Street. As the third generation, András and Áron opened their first shop in the city center after living in Australia for awhile. They longed for their home and also brought a few things with them. One thing is sure, they really know what they are doing: barber shops are really popular in Western Europe and in Australia, and started to spread in the US just a few years ago, as well.
The foreign impact can be felt in the interiors, too. The walls are defined by exposed bricks, and the equipment by wooden surfaces. The guys' father put together the counters from MÁV pallets; the coat rack is made out of deer antlers; the walls are decorated by old scissors and razor blades, all part of the family heritage; and a few Australian memories can be seen, like a boomerang and a surfboard. We do not know why, but this strange mixture of styles creates a rather cozy atmosphere.
The furnishings are old, but the tools and materials are absolutely modern, and almost all of them are from the US. The order never changes: first comes the washing, then the trimming and scissor-cut; and then comes the hot towel, the blade, and the pomade. The result is an unmistakably classic hairstyle.
Barber Shop Budapest is a good-humored men's club (this means that no women can enter the shops), where the employees are all buddies, and the guests can enjoy a masculine beautifying session. You will not faint from the smell of perm chemicals here, and there are no appointments or uncomfortable small talk. Just old-school faces and classic shapes.
Barber Shop Budapest
&
Academy
1074 Bp. Dob Street 11
1072 Bp. Rákóczi Road 8/A (Astoria)
1061 Bp. Király Street 6
1075 Bp. Holló Street 1
Academy:
1072 Bp. Rákóczi Road 8/A (level 1 Astoria)
E-mail: [email protected]
Web: http://www.barbershopbudapest.hu/
Facebook: https://www.facebook.com/barbershopbudapest
You should add a rate for this post: