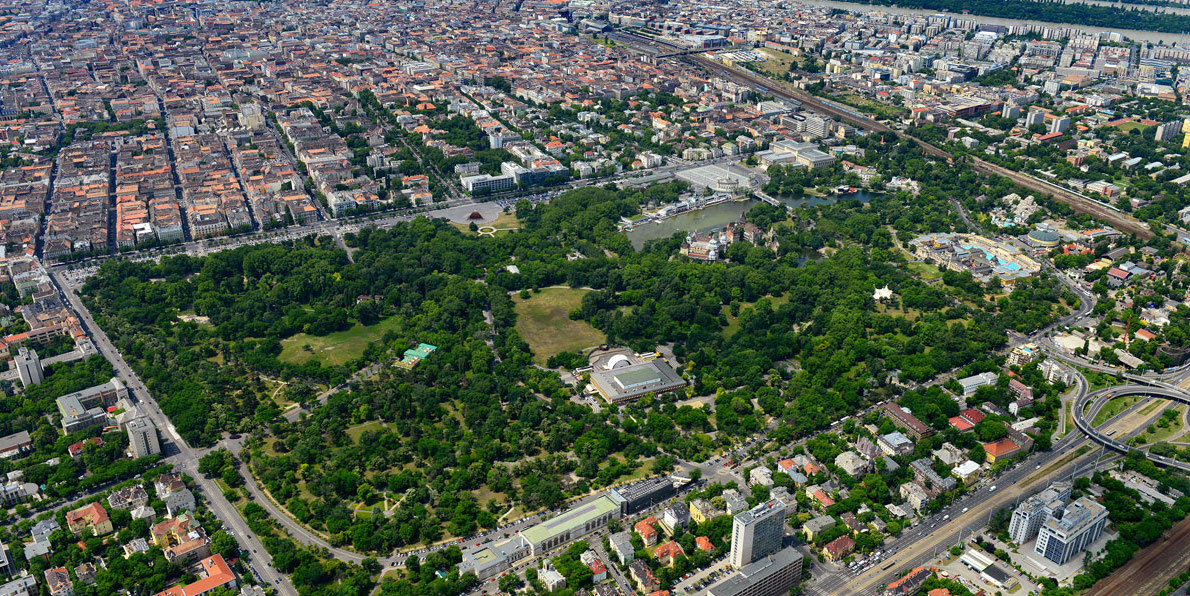 City Park
Városliget (English: City Park; German: Stadtwäldchen) is a public park close to the centre of Budapest, Hungary. It is a 0.9-by-0.6-mile (1,400 by 970 m) rectangle, with an area of 302 acres (1.2 km2), located in District XIV of Budapest. Its main entrance is at Heroes' Square (Hősök tere), one of Hungary's World Heritage sites.
Name
The area was formerly called Ökör-dűlő, meaning "Oxmeadow". The first mention of the name comes from 1241 in the archaic form, Ukurföld. In the 18th century the area was called Ochsenried in German. Around 1800 the official name was changed to Batthyány-erdő (Batthyány Forest) after its tenants, the Batthyány family.[2] The first trees and planified walkways were established in 1751 and after the public park was created in the first decades of the 19th century the present-day name, Városliget (and its German version, Stadtwäldchen) was accepted and it became the first public park in the world.
History
City Park was the main venue of the 1896 millennium celebrations of Hungary, by which time Andrássy Avenue, Millennium Underground and the Grand Boulevard were built.
Sports
City Park has the largest artificial ice surface in Europe, Városligeti Műjégpálya, and it's the centre of Hungarian bandy. The B-group at the Bandy World Championship 2004 was held here[3] and also the Bandy World Championship for women 2007.[4] City Park is home to the famous to one of the world famous Budapest spas, the Széchenyi.
The park used to host motorsport events in the 1950s. In 1985 despite the serious plans the city government decided against hosting the Hungarian Grand Prix races in the park.
You should add a rate for this post: