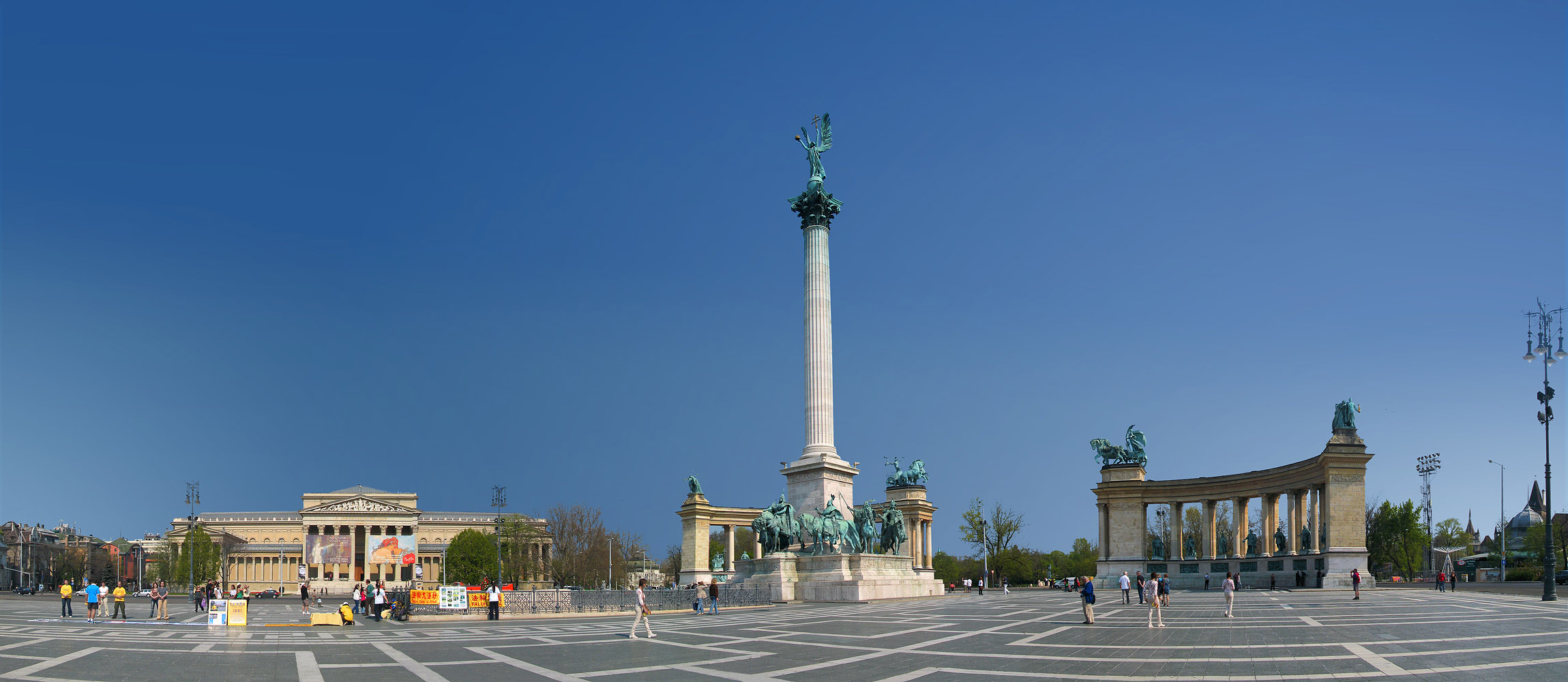 Heroes' Square
Hősök tere is surrounded by two important buildings, Museum of Fine Arts on the left and Palace of Art (or more accuratelyHall of Art) on the right. On the other side it faces Andrássy Avenue which has two buildings looking at the square — one is residential and the other one is the embassy of Serbia (former Yugoslavian embassy where Imre Nagy secured sanctuary in 1956).
The central feature of Heroes' Square, as well as a landmark of Budapest, is the Millennium Memorial (Hungarian:Millenáriumi Emlékmű, also translated Millennium Monument or Millennial Monument). Construction began in 1896 to commemorate the thousandth anniversary of the Hungarian conquest of the Carpathian Basin and the foundation of the Hungarian state in 896, and was part of a much larger construction project which also included the expansion and refurbishing of Andrássy Avenue and the construction of the first metro line in Budapest (Hungarian: Földalatti). Construction was completed in 1900, which was when the square received its name.
When the monument was originally constructed, Hungary was a part of the Austro-Hungarian Empire and thus the last five spaces for statues on the left of the colonnade were reserved for members of the ruling Habsburg dynasty. From left to right these were Ferdinand I (relief: Defense of the Castle at Eger); Leopold I (relief: Eugene of Savoy defeats the Turks at Zenta),Charles III, Maria Theresa (relief: The Hungarian Diet votes support "vitam et sanguinem") and Franz Joseph (relief: Franz Joseph crowned by Gyula Andrássy). The monument was damaged in World War II and when it was rebuilt the Habsburgs were replaced by the current figures.
On the 16th June 1989 a crowd of 250,000 gathered at the square for the historic reburial of Imre Nagy, who had been executed in June 1958.
There are also three other squares in Budapest entitled Hősök tere, in Soroksár, Békásmegyer and Rákosliget.
Behind the cenotaph but within the decorative chain is a flat bronze plate which marks the site of an artesian well whose drilling was completed in 1878 by Vilmos Zsigmondy. This well provides water for the Széchenyi Baths behind the monument and the Dagály Baths in the Népfürdő utca. The well reached a depth of 971 meters and produces 831 liters of hot water per minute at 74 degrees Celsius
The Heroes' Square monument has a 90% duplicate in Shanghai Global Paradise, Shanghai. Since its opening in 1996, it has been mostly degraded and most statues removed.
source: wikipedia The Free Encyclopedia
You should add a rate for this post: