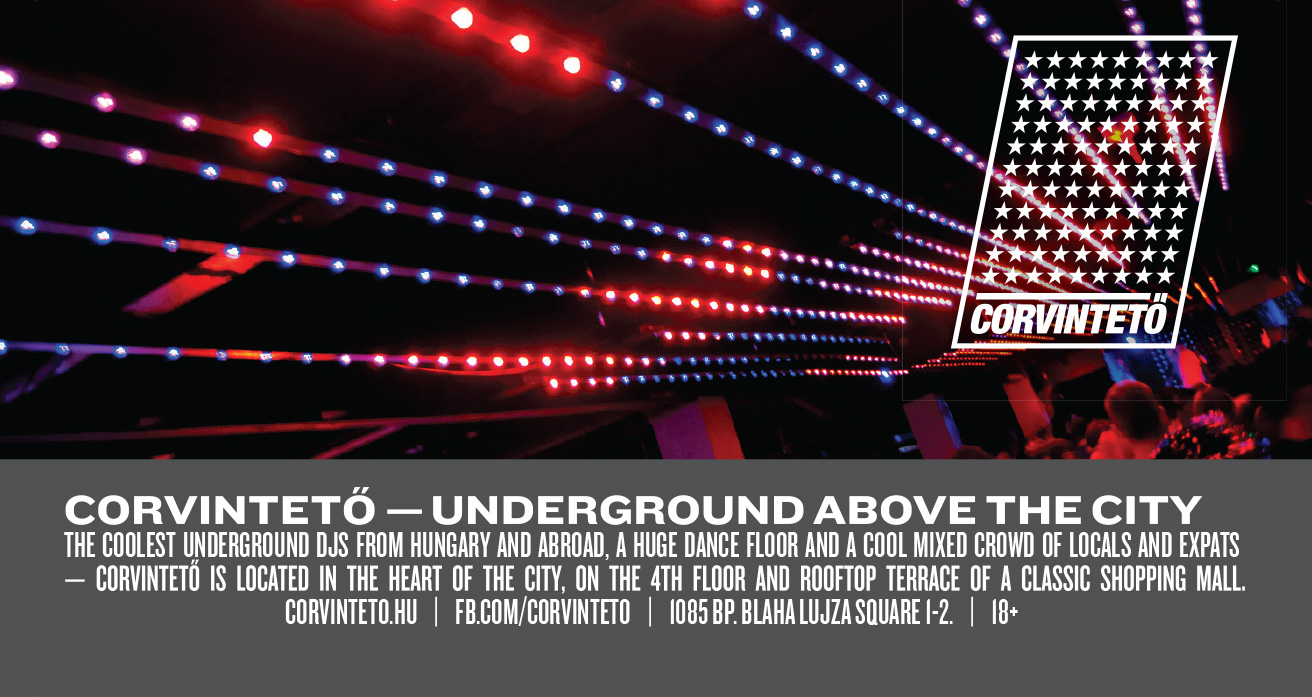 Corvintető
HISTORY
Recommended by The New York Times, Corvintető is a rooftop ruin bar and a modern, buzzing underground dance club above Blaha Lujza tér in Budapest, Hungary.
Located on the top floors of a landmark department store, it has a suberb view of the city skyline and friendly prices from 6pm. Then at 10pm, its climatised main hall opens to a lively, 18+ crowd eager to party to wild, loud, hot tunes until dawn.
Programs include underground DJ nights with local and international artists, genres ranging from deep house to ghettofunk, dubstep and trap. Hungarian slam poetry nights and indie rock concerts do often take place as well.
Corvintető's roof terrace was opened in Summer 2007, then the floor below was added as a club in 2008.
HALLS AND TERRACE
ROOF TERRACE
There's a great view of the city skyline, including Blaha Lujza tér, Gellért hegy and Rákóczi út from our unique roof terrace. It accomodates 250 people, and works pretty much as a lively ruin pub under the stars. We recently built a 4 meter tower on top of the terrace to offer you an even better view and atmosphere. In the summer, we open at 6pm. Smoking is allowed all around the terrace. Music is usually on, artists, foreigners and hangers by chat about just about everything, while our cook prepares hamburgers, salads.
MAIN HALL
This is where most of the dancing and partying and wildness happens at night. We are proud of our lighting system that consists of 1800 LED lights, which give you strange ideas. This room is strictly non smoking.
BISTRO
Our tiny bistro accomodates 150 people, with a balcony overlooking the neighboring hotel. It's got a bar, red theme, some strange pop tunes after mindight and a mirror ball, which makes it a perfect place for VIP parties. Smoking is allowed on the balcony.
SMALLER HALL
Opened in Spring 2013, this place is for dancing to different music than what's happening in the main hall. However, this Hall is closed during the Summer months, apart from random movie shoots and VIP parties.
for the programs please click here
You should add a rate for this post: