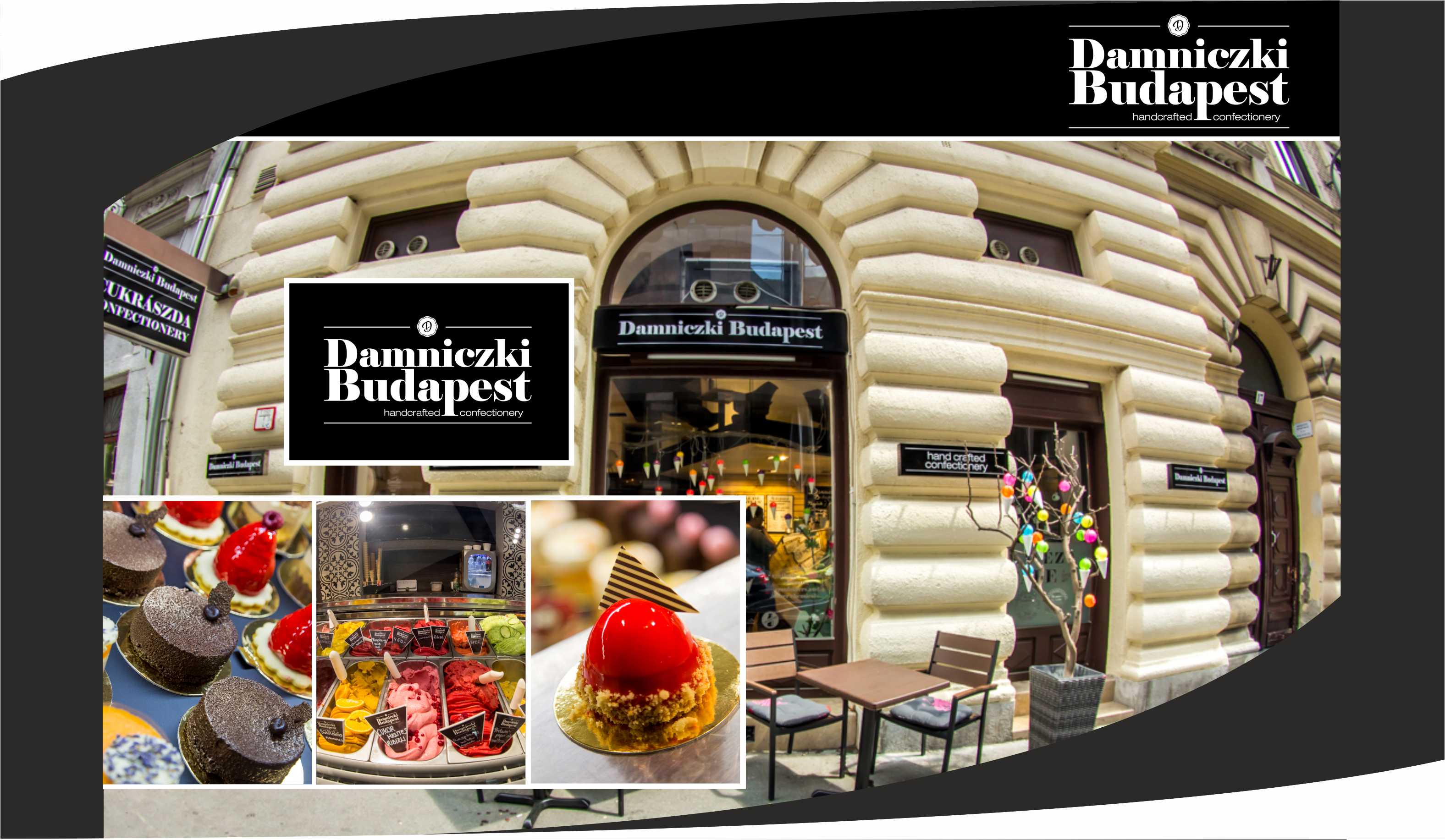 Damniczki Budapest – handcrafted confectionary
They are very proud of the awards they have already received, for example for the creation of  raspberry with red wine flavor which became 'The Ice Cream of the Year' in Hungary in 2013.  In 2014 their 'Somlói revolution' cake became 'The Cake of Hungary', and their raspberry ice cream with black tea flavor got an award at the Ice Cream Festival in 2015.  Last, but not least, they are proud of their malt ice cream with ginger which won silver medal for Ice Cream of the Year in 2016.
We guarantee the perfect coffee experience by our three highly qualified, competitor baristas. Besides the classic Italian style espresso you can find our specialty single origin blend of 100% arabica, also to mention filter coffee as the foundational element of the new wave coffee culture.
Every day we wait our guests with freshly made, handcrafted mono desserts.
Hot lemonade specialities and fresh made breakfast pastries are also available prepared by the experienced hands of our colleagues.
The cake maker shop is determined to use only natural ingredients. The fresh milk and the traditional cream which come from a nearby dairy and walnuts and fruits are also bought from local orchards. No synthetic aromas, colors and other chemicals are used.
The ice creams are made on the basis of recipes which are nearly 100 years old, but they contain much more fruit in themselves.  Every time you taste an ice cream you get the same feeling as if you had just tasted a delicious fruit.
They produce more than 48 kinds of ice creams which are all produced out of natural ingredients.  People with lactose intolerance can choose from 20 different SORBET ice creams.  Master Damniczki's award winning Cake of the Year 2014 called Somlói Revolution as well as his Spiced Raspberry cake stand out in the selection.  A wide range of delicious 'monodesserts' await customers every day. Coffee, refreshing smoothies, special lemonades and breakfast pastries are all served in the shop.
Master Damniczki also cares for ice cream lovers with flavors like pumpkin with orange flavor, beetroot with basil, corn with butter and salt or even cucumber with yoghurt and dill.  But we should also not forget about ice creams like raspberry with 'paprika' and dark chocolate with truffle.
Facebook
www.facebook.com/damniczkibudapest
You should add a rate for this post: